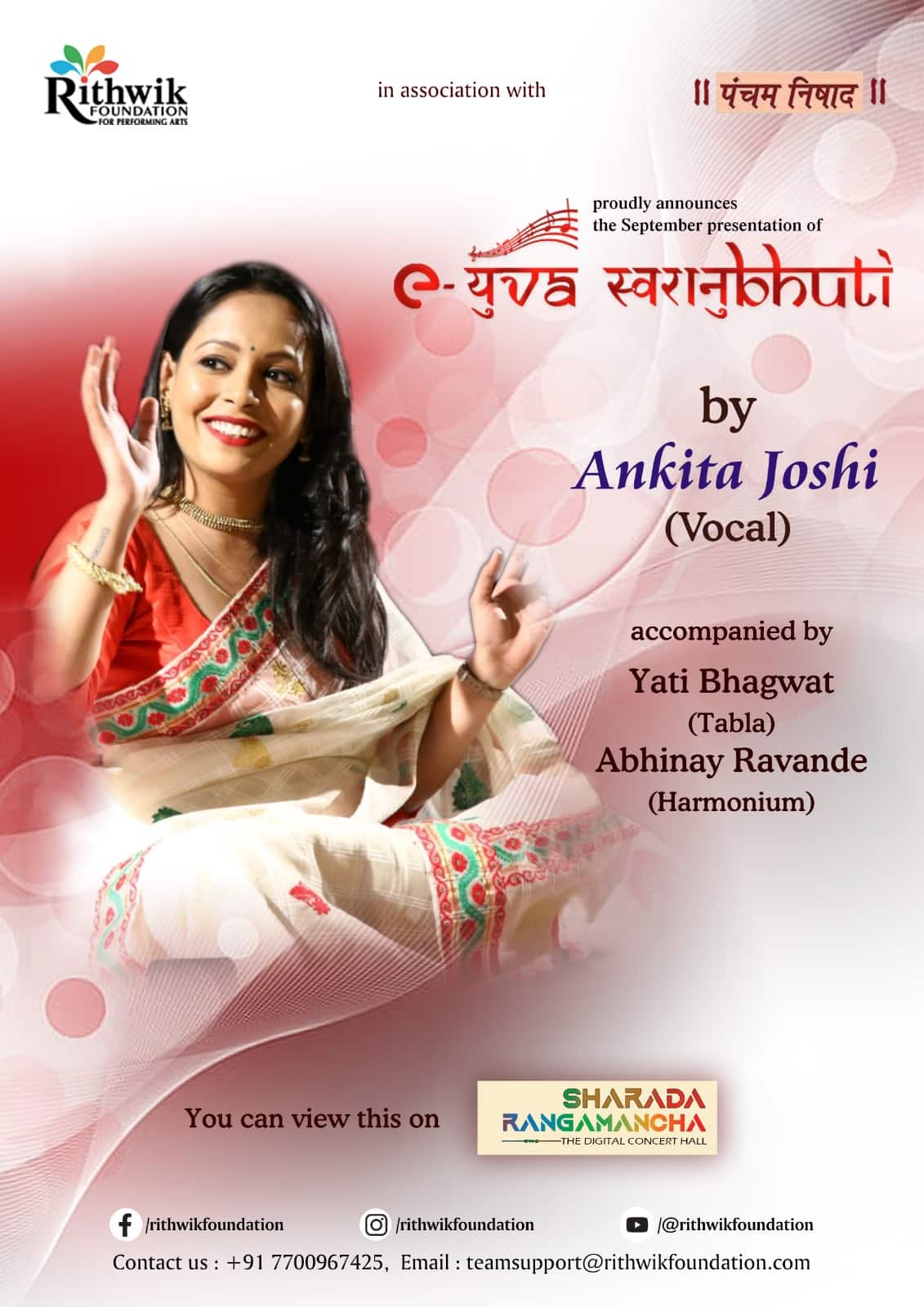 Dear Music Lovers,
Rithwik Foundation is proud to present e-Yuva Swaranubhuti September 2023, featuring Smt. Ankita Joshi.
It will premier on our digital platform 'Sharada Rangamancha' as well as on our Youtube channel.
Featuring: Smt. Ankita Joshi (Vocal)Accompanied by:Shri Yati Bhagwat (Tabla) & Shri Abhinay Ravande (Harmonium)
Registration and viewership are free for this event.

Ankita Joshi: A Morning Rhapsody at Pratahswar
In the tranquil embrace of a new day, connoisseurs of music were graced with the ethereal vocal performance of the young and promising artist, Ankita Joshi. This rising star took centre stage at the prestigious 'Pratahswar' program, a meticulously organized event by Pancham Nishad in collaboration with the esteemed Rithwik Foundation for Performing Arts. Anchored in the dawning light, Ankita's melodies wove a spell that resonated deeply with her audience, leaving an indelible mark. Notably, the Pratahswar program is broadcast under the name 'Yuva-Swaranubhuti' by Rithwik Foundation for Performing Arts, magnifying the reach of Ankita's artistry.
Ankita Joshi's performance was a symphony of classical compositions, each one more enchanting than the last. Let us delve into the captivating renditions that comprised her repertoire:
1. Raag – Nat Bhairav, Bandish – Chadhiye Mulak Sultan, Taal – Vilambit Ektaal
Ankita's opening act was a graceful homage to the serene Nat Bhairav Raag. Her mellifluous voice effortlessly intertwined with the Vilambit Ektaal rhythm, setting the tone for a soul-stirring morning.
2. Raag – Nat Bhairav, Bandish – Dehun Bichari Saguna, Taal – Teentaal
Keeping the audience spellbound, Ankita seamlessly transitioned to another composition within the Nat Bhairav Raag, this time entwined with the intricate Teentaal rhythm.
3. Raag – Gurjari Todi, Bandish – Sautan Ke Ghar Jaiye, Taal – Khayal Madhya laya Teentaal
Ankita's versatile voice glided effortlessly through the intricate tapestry of the Gurjari Todi Raag, captivating listeners with her rendition in Khayal Madhya laya Teentaal.
4. Raag – Gurjari Todi, Bandish – Baras Ughar Gayo Meh, Taal – Khayal Drut Ektaal, Composition by Tansen
In a tribute to the legendary Tansen, Ankita infused the morning with the soul-stirring Gurjari Todi Raag in the Khayal Drut Ektaal, evoking profound emotions among the audience.
5. Raag – Bhairav Bahar, Bandish – Kajarare Naina Gori Ke, Taal – Teentaal
Ankita breathed life into the Bhairav Bahar Raag, renowned for its evocative mood, through an emotive rendition set to the Teentaal rhythm.
6. Raag – Bairagi Bhairav, Bandish – Ab Na Mohe Samjhao Kanha, Taal – Teentaal, Composition by Mirabai bandish
In a spiritually infused conclusion, Ankita Joshi presented the Bairagi Bhairav Raag, delivering a heartfelt rendition of a Mirabai bandish composition that left the audience in awe.
Ankita's performance was a testament to her profound understanding of classical music and her ability to evoke a myriad of emotions through her vocals. Her melodious resonance not only filled the auditorium but also resonated in the hearts of those fortunate enough to witness her artistry.
As a young artist, Ankita Joshi's talent holds immense promise, and her performance at the 'Pratahswar' program undoubtedly marks the beginning of a remarkable musical journey. With her unwavering dedication and passion for classical music, Ankita is poised to become a luminous star in the realm of Indian classical music. Audiences far and wide eagerly await her next performance, eager to witness the blossoming of this extraordinary talent.
The Pratahswar program, which is being broadcast as e-Yuva Swaranubhuti September 2023 by Rithwik Foundation for Performing Arts, further amplifies Ankita's presence on the classical music stage.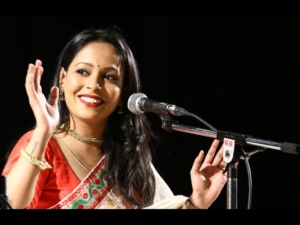 Ankita Joshi's musical journey began in Nanded, Maharashtra, where her family's devotion to spiritual songs ignited her love for music. Her maternal grandparents, through their Kirtans, laid the foundation for her musical passion. At the age of 6, her uncle, Laksmikant Ramdev, recognized her talent and became her first guru, teaching her with discipline and dedication.
Ankita's deep admiration for classical vocalist Pandit Jasraj grew as she listened to his melodies at home. She decided to pursue music professionally, driven by her love for his artistry. In 1998, Ankita's life changed when she met Pandit Jasraj at the Sawai Gandharva festival. She boldly requested him to be her guru, and after hearing her sing, he agreed, marking the beginning of their remarkable journey together.
Under Pandit Jasraj's tutelage, Ankita's talent blossomed, and she honed her skills as a classical vocalist. The maestro's guidance and her dedication resulted in numerous competition wins, with 'Raga Bihag' holding a special place in her heart. Today, at the age of 24, Ankita Joshi is not only a talented classical singer but also a devoted disciple of Pandit Jasraj.
She continues to explore new dimensions in classical music and fusion, spreading the magic of her melodious voice to inspire others. Her story stands as a testament to dedication, love for music, and the profound impact of a mentor on a young artist's journey.

Register for email updates