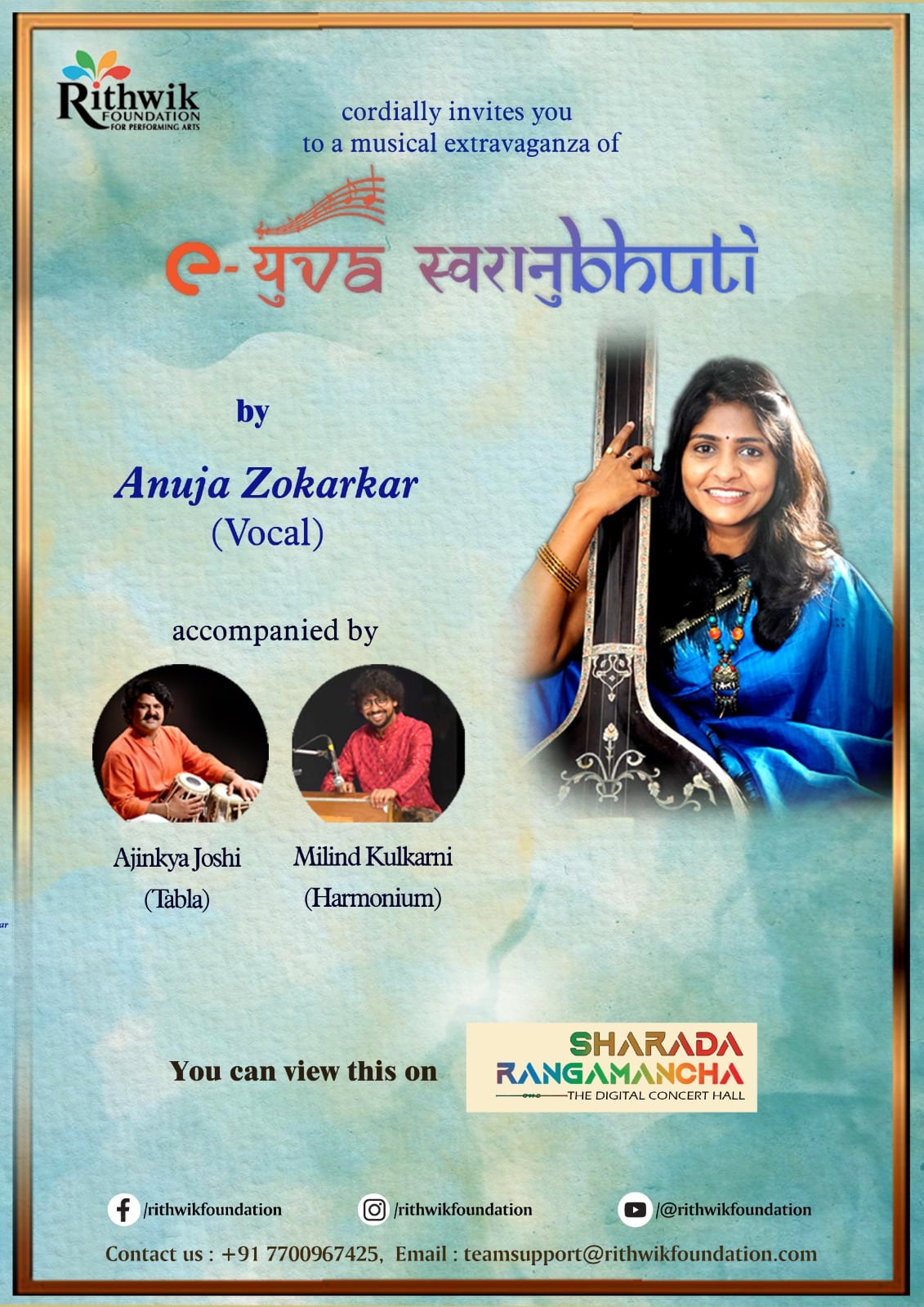 Dear Music Lovers,
Rithwik Foundation is proud to present an exclusive E-Yuva Swaranubhuti program, featuring Smt. Anuja Zokarkar.
It will be broadcast on our digital platform Sharada Rangamancha as well as on our Youtube channel.
Featuring: Smt. Anuja Zokarkar (Vocal)Accompanied By: Shri Milind Kulkarni (Harmonium) & Shri Ajinkya Joshi (Tabla)
Registration and viewership are free for this event.

Smt. Anuja Zokarkar belongs to an eminent musical family of Indore, and has been drawn towards Indian Classical Music since a very early age. She is the daughter and disciple of renowned vocalist Vidushi Kalpana Zokarkar, and carries forward the legacy of Sangeet Samrat Ustad Rajab Ali Khan of Dewas, the guru of her grandfather Pt. Krishnarao (Mamasaheb) Mujumdar.
Blessed with an inherently melodious voice, Anuja started training under her mother since her childhood and performed at various live performances and recordings from a very young age. She recorded her first album at the tender age of 11 years. Anuja has featured on Baalvaani and Yuva Vaani on Akashvaani, Indore several times.
In addition to Classical music, she renders compositions of Semiclassical and Light Music like Thumri, Dadra, Tappa, Hori, Kajri, Jhoola, Ghazal and Bhajan, all with an equally good command and authenticity.

Register for email updates