e-Swaranubhuti April 2021
Celebrating The Birth Centenary Year Of Pt. Bhimsen Joshi
e-Swaranubhuti April 2021 is happening soon!
As a tribute to the revered Pandit Bhimsen Joshi on his birth centenary year, Anand Bhate and Jayateerth Mevundi pair up for an exclusive Sunday evening vocal concert.
Viewership of the event is free for all, so join us and let's get transported into a musical dimension. We're going live on the on the 25th of April, 7PM (IST).
We're broadcasting the event right here on our website, so you can enjoy it from the safety of your homes.

Artists of e-Swaranubhuti April 2021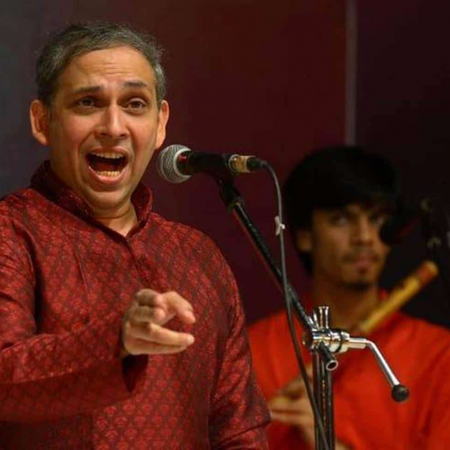 Anand Bhate
Anand Bhate is one of the most promising artistes in the new generation of the great Kirana tradition. He started his musical journey in his childhood and since then he has continued to present different exponents of Hindustani Classical Music.
He has a privilege of being the disciple of the great classical vocalist, Bharat-Ratna Pandit Bhimsen Joshi, doyen of the Kirana gharana, a legend in his lifetime.
Anand was a gifted child prodigy. Anand's natural talent for music blossomed at a very young age. He gave his first television performance at the age of 10. Classical music enthusiasts were spellbound by Anand's luminous rendering of Balgandharva's gayaki and affectionately conferred on him the 'title' Anand Gandharva.

Jayateerth Mevundi
Pandit Jayateerth Mevundi is one of the Kirana gharana's leading vocalists. Born in Hubli, Jayateerth ji's initial training began right at home, informally singing bhajans and other devotional music. He recounts that "there was no musician as such in my family, although they would listen to songs on the radio, identify the ragas and appreciate music in general".
Aged 14 he ventured out to find a guru. He received instruction from Pandit Arjunsa Nakod for over a decade, and later trained with Shripati Padigar, a disciple of Pandit Bhimsen Joshi ("whenever I listened to Bhimsen-ji on the radio, it used to cast a spell on me…").
Many hear a resemblance between his voice and Joshi's, with strong incorporation of ideas from Carnatic music and a rich abhang repertoire.