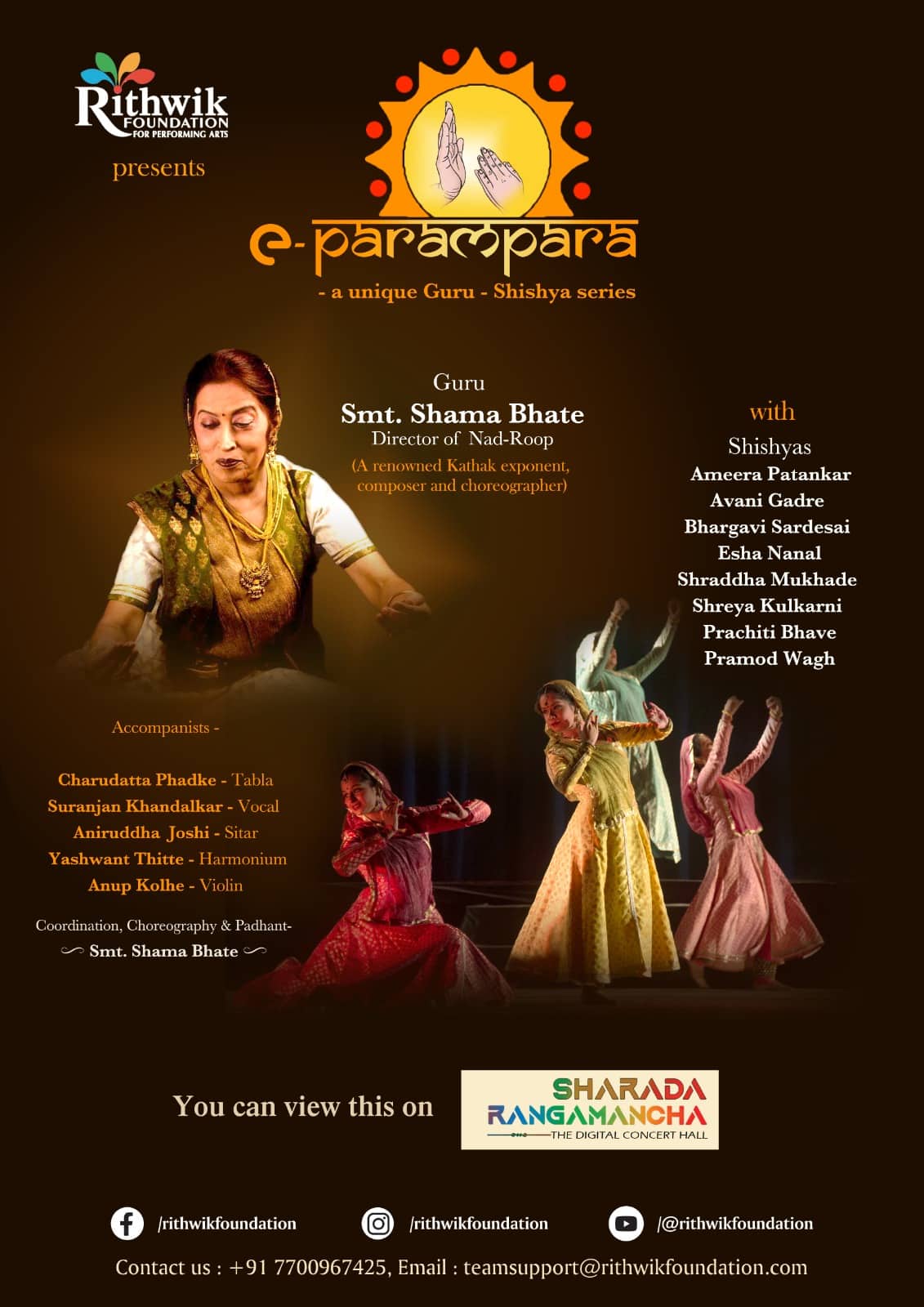 Dear Patrons,
Rithwik Foundation for Performing Arts is proud to present the second session of 'PARAMPARA', a unique series celebrating the legacy passed on from Guru to Shishya – in all art forms.
The second session of 'PARAMPARA' will be based on the art form of Kathak.
Featuring:
Guru: Smt. Shama Bhate WithShishyas:
Ameera Patankar
Avani Gadre
Bhargavi Sardesai
Esha Nanal
Shraddha Mukhade
Shreya Kulkarni
Prachiti Bhave
Pramod Wagh

Shama Bhate
Shama Bhate's work spans over 50 years as a Performer, Choreographer, Artistic director, Educationalist, Scholar, and an active catalyst of arts in the society.
She is a trend-setter in the true sense, having numerous endeavours that she dared to envision and execute, all on her own merit! She founded Nad-Roop in 1988 and under her leadership, it transformed into one of India's foremost dance institutes. Today, Nad-Roop has a Performing Troupe, a Production Unit (with more than 50 independent productions), Administrative Wing (with numerous National seminars, Symposia, Exhibitions to its credit) & Training Faculty (with more than 1000 students in hobby classes & 150 students in BA/MA Dance degrees) across the globe.
Shama Bhateji has performed at many prestigious national and international festivals, winning the hearts of the audience world over!
She is one of India's leading choreographers with a tremendous spectrum of work to her credit, presenting the ancient traditional form with a unique contemporary vision! She has collaborated with cinema, paintings, jazz music, even with a live philharmonic orchestra of 50 musicians!
She has choreographed more than 50 dance ballets and hundreds of dance compositions!
She has many creative initiatives to her credit for the promotion of Classical dance among all strata of society like 'Quest for New Horizons', 'Rohini Bhate Dialogues (with Raza Foundation), 'Madam Menaka Choreography Movement', 'Sansmaran' (ode to stalwarts in dance through a national level Seminar/Exhibition/Symposium) and many more.
She has been the Keynote Speaker at numerous seminars and has given hundreds of lecture demonstrations on kathak, world over.

Register for email updates