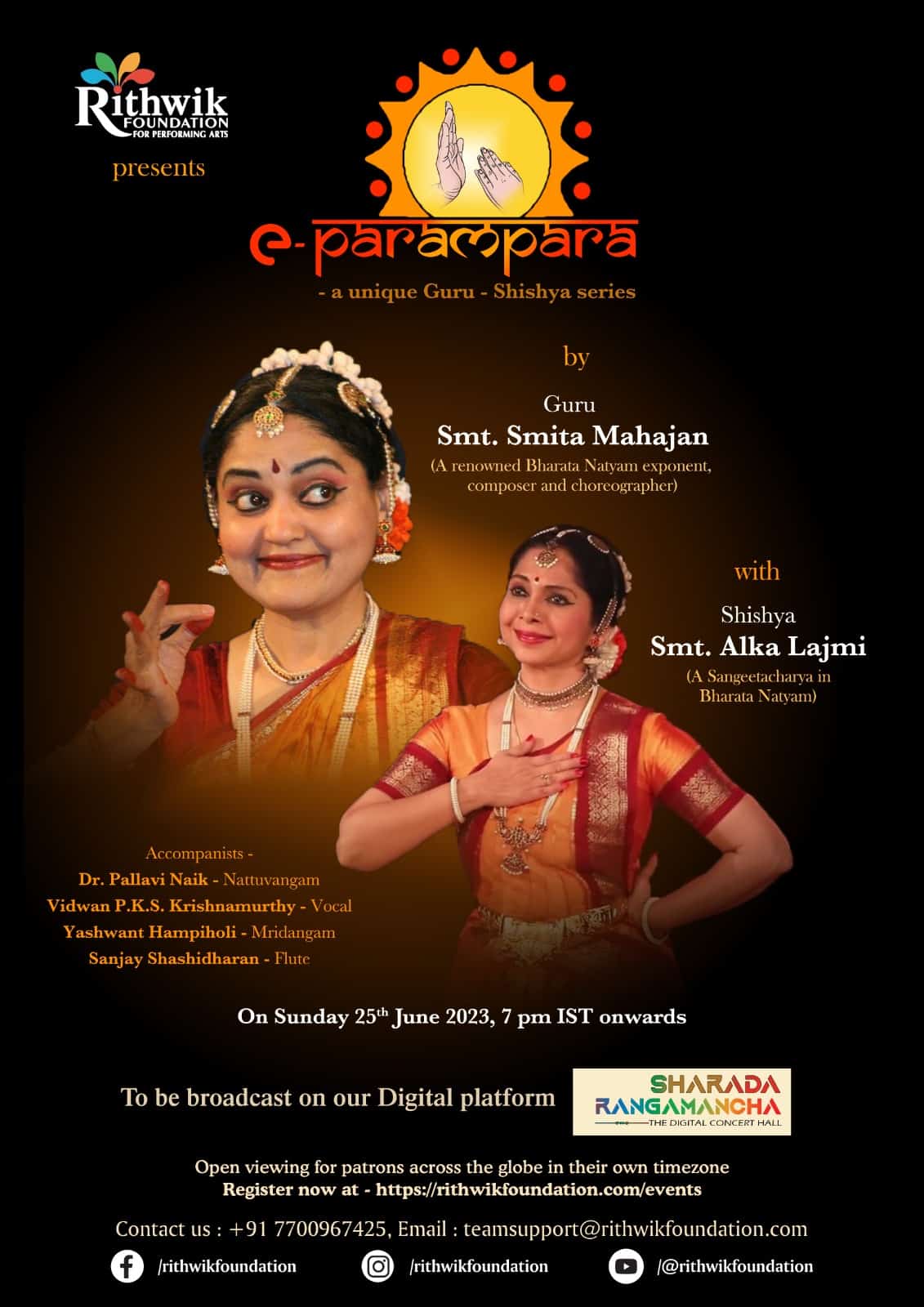 Dear Patrons,
Rithwik Foundation for Performing Arts is proud to present 'PARAMPARA'- a unique series celebrating the legacy passed on from Guru to Shishya – in all art forms.
It will be broadcast on our digital platform Sharada Rangamancha.
Featuring: Guru Smt. Smita Mahajan (Bharata Natyam) with Shishya Smt. Alka Lajmi (Bharata Natyam)
Registration and viewership are free
"I have been watching and enjoying the programs presented by Rithwik Foundation for a long time.
It always seemed that there was something more than a usual music or dance concert when I would watch it. I was unable to understand what it was till I was given the opportunity to perform for Rithwik Foundation along with my Guru! During the planning phase I began to understand why the programs seemed special……the care and respect given to artists by the entire team of the Foundation makes it a very special experience. I think this makes the artist comfortable and present the concert with more dedication. Every detail is meticulously planned and executed, our needs are enquired about and fulfilled with a smile……this is the Charm of Rithwik Foundation where the art and the artist are taken care of with love and respect.
Thank you Rithwik Foundation for this very very special experience." – Alka Lajmi, Performer.

Performances of e-Parampara Session 01
To highlight the relevance of Guru-Shishya tradition in the field of arts, Rithwik Foundation is currently presenting a unique series called Parampara. The first program of the series is being presented by Bharata Natyam dancers Guru Smt Smita Mahajan and Shishya Smt Alka Lajmi.
The recital features compositions that are composed by their Guru's Guru, Shri K P Kittappa Pillai, compositions created by their Guru Dr Smt Sucheta Chapekar, and a few dance numbers composed by Smt Smita Mahajan. The selection of compositions clearly brings out the careful handing down of tradition by the Gurus and the creative contribution of contemporary dancers, which is equally important for the continuation of tradition – Parampara.
The presentation begins with Mangala Pade, a composition by King Shahaji Raje Bhosale presented by both the dancers, followed by a Panchajati Alaripu composed by Dr Sucheta Chapekar, which is presented by Alka Lajmi.
A unique composition 'Pahile Krishna' is performed next, which portrays various forms of Krishna. Varnam, the most exhaustive composition, brings out the despair of a Vipralabhda nayika whose beloved has not kept his promise. Both these compositions are presented by Smt Smita Mahajan.
The abhinaya padams that follow showcase Swadhinabhartruka and Khandita nayikas. The vatsalya padam depicts the beautiful bond between a mother and her adorable daughter. The padam portraying the Swadhinabhartruka nayika is presented by Alka Lajmi, while the Khandita nayika and vatsalya padam are presented by Smt Smita Mahajan.
The dancers together then present Jakkini Daru, another unique composition known to be the forerunner of Tillana. The recital concludes with Mangalam, a prayer seeking forgiveness for the mistakes which may have been committed during the recital and also seeking blessings for all rasikas.

Smita Mahajan
Smita Mahajan was born on December 27, 1963, to parents who were Hindustani classical vocalists. Her father, the late Pt. Sharad Sathe, was a veteran Hindustani maestro. She enrolled in Bharata Natyam at the age of nine under the guidance of dancer Dr. Smt. Sucheta Bhide Chapekar and trained under her for over 20 years. Along with pursuing intensive training in Bharatanatyam and Hindustani music, Mahajan also studied mathematics at the University of Mumbai and graduated with a bachelor's degree in 1984.
For the next few years, she taught Bharatanatyam both privately and at several institutes in Mumbai. She moved to Pune in 1993 after getting married and decided to pursue a master's degree in Bharatanatyam at Savitribai Phule Pune University, from where she graduated in 1996. Mahajan is an empaneled member and visiting professor at Savitribai Phule Pune University's (SPPU) Centre for Performing Arts, also known as Lalit Kala Kendra. She also teaches dance at Bharati Vidyapeeth University in Pune and runs a dance institute called Artitude, where she teaches Bharatanatyam to around 12 to 15 experienced students.
Every year, Mahajan organizes a two-day festival called the Artitude Dance Festival. The first day consists of performances by her students and other eminent artists in the city, while the second day is dedicated to seminars on dance-related subjects by speakers from outside Artitude. She has given solo performances in India and abroad, and her performances have seen several renowned musicians accompanying her, such as violinist B. Anantharaman, mridangam players Shankar Narayanan and Satish Krishnamurthy, flautist P.S. Krishnamurthy, and singer Nandini Rao Gujar.
Mahajan is also a Carnatic music composer and has created 50 to 60 pieces that follow the margam (traditional course) of Bharatanatyam. Her book and CD, Margam Unmesh, feature Marathi and Hindi pieces written by her. Several Bharatanatyam dancers in Maharashtra have also choreographed performances to her compositions. She also has a dance textbook and a biography named Sharadache Chandane of her illustrious father to her credit.
Currently, Mahajan is conducting research on hasta mudras (hand gestures) in different ancient texts and studying the works of several Indian saints. She intends to publish her research findings to make this topic accessible to others. She has conceptualized, directed, and choreographed various dance productions like Devi, Rukmini, Vaijayanti, Meghadoot, Purandaradasa, and so on!
Alka Lajmi
Alka Lajmi is a disciple of Dr. Smt. Sucheta Bhide Chapekar and Smt. Smita Mahajan. Since her Arangetram in 1988, Alka has performed at many prestigious organizations and music and dance festivals throughout India.
After obtaining her Bachelor's degree in Home Science, Alka completed her Master's degree in Bharata Natyam from the University of Pune's Lalit Kala Kendra with distinction. Her thesis on "Changing Trends in the Teaching Practices of Bharata Natyam" was approved by the Akhil Bharatiya Gandharva Mahavidyalaya Mandal, and she was conferred the degree of Sangeetacharya.
Alka has been teaching dance to young students interested in Bharata Natyam since 1994 at Gandharva Mahavidyalaya, Vashi, where many of her students have successfully passed the Visharad and Alankar examinations. She is also one of the founder members of Nrityasamved, an institute dedicated to teaching and propagating Bharata Natyam.
Nrityasamved conducts many out-of-classroom activities such as workshops, lecture-demonstrations, and viewing of video recordings of great dancers for the benefit of students. Alka has also choreographed thematic Bharata Natyam recitals. She is a recipient of the title "Singarmani."

Register for email updates