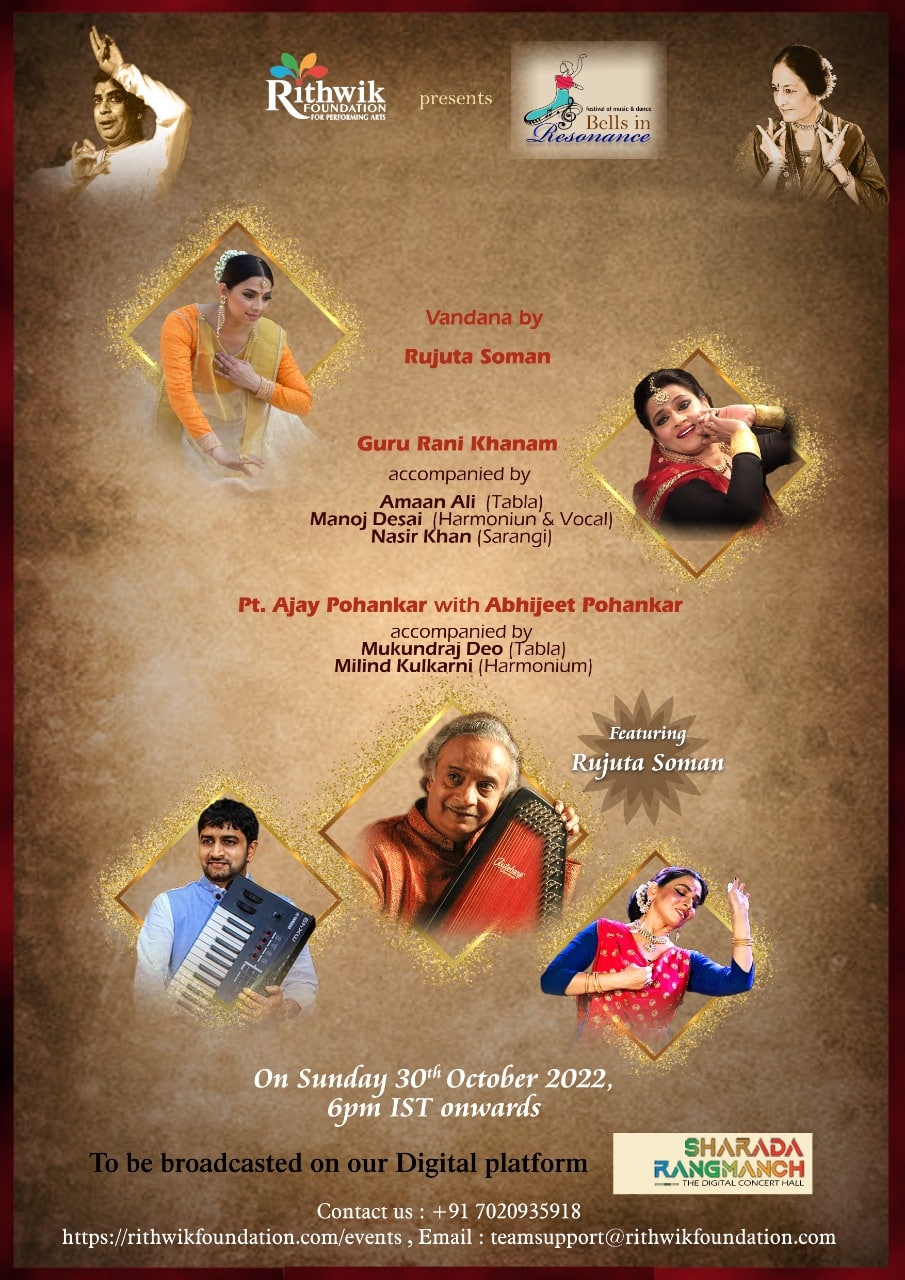 Honouring Indian Heritage and Traditions
India has an ancient tradition of classical dance and music. The stalwart Gurus worked relentlessly in their pursuit and excellence, thus carving a niche for themselves and contributing magnificently to its repertoire. Bells in Resonance is a tribute to the luminaries of Indian classical dance and music, a humble attempt to offer homage to the masters. Rithwik Foundation is proud to digitally launch the exclusive Bells in Resonance program.
Featuring
Guru Rani Kanam
Ajay Pohankar
Rujuta Soman
Abhijeet Pohankar
The event is FREE for everyone to watch.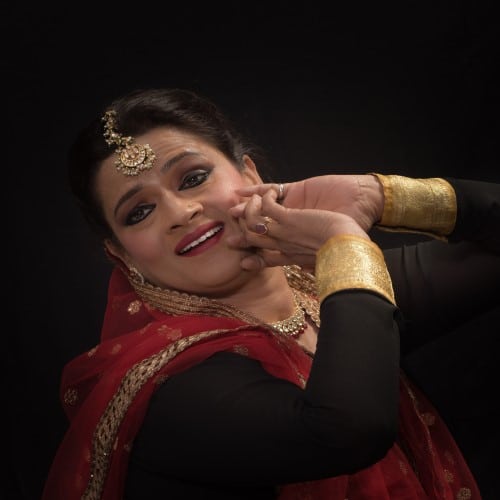 Rani Khanum
Guru Rani Khanam is one of the most sensitive and astute interpreters of Lucknow Gharana of Kathak today and she has been performing professionally for the past thirty years. While deeply rooted in tradition she has evolved her own individual style in Kathak. She achieved her rigorous training by renowned doyens of Kathak Ustd Fattan Khan, Smt. Reba Vidyarthi and Pt. Birju Maharaj. Rani Khanam graduated with top honors from Kathak Kendra, New Delhi.
Inspired by her intimate knowledge of Islamic and Sufi texts, she has a deep vision to perform on the unique repertoire of Sufiana poetry (Qalam) & Islamic verses, which has received rich reviews. Liberating experience for the 30 years that she has been dancing, and at this juncture, Rani Khanam shares with the world, some of what she has learned, gained, and evolved, especially with the new generation of serious students of Kathak.
Her Choreography has received applause and encouragement from dignitaries including the President, Vice President, Prime Minister, Chief Ministers of Delhi & Arunachal Pradesh, Governor of Bengal & Arunachal Pradesh, etc. As a choreographer, she experimented with a wide variety of themes: traditional, contemporary as well as issued-based dance productions. She has choreographed over 200 items.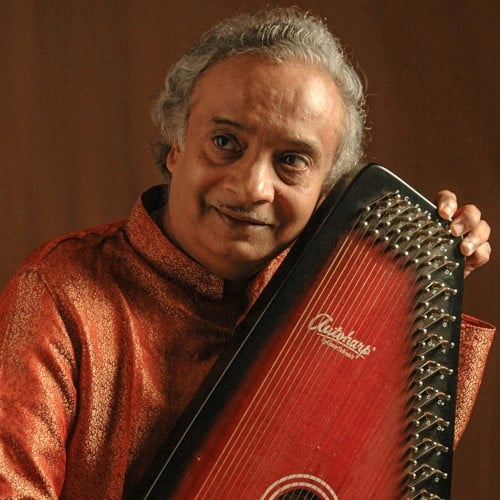 Ajay Pohankar
Pandit Ajay Pohankar Ji was born in a respected and educated family in Jabalpur on 24th February 1947. He started his training at the age of 5 under the guidance of his mother Dr. Susheela Pohankar, renowned scholar, musicologist & Kirana Gharana vocalist. He was introduced to the North Indian classical world as a star child prodigy at the age of 10 by none other than USTAD AMIR KHAN SAHEB in 1958. He went on to sing at some of the most prestigious classical festivals at that tender age, namely Sawai Gandharva Music Festival, Calcutta Conference, and many more prestigious festivals of India, and was claimed as one of the most amazing child prodigies of the era by veterans like Ustad Amir Khan Sahib, Ustad Salamat-Nazakat Ali Khan, Hirabai Badodekar, Begum Akhtar and Pandit Bhimsen Joshi and other legends of that era.
He released his first solo album in 1980 by Surshree Music. Went on to record almost 30 albums in his career spanning 5 decades and more. He is one of the rare artists to sing most of the genres of Indian music like Khayal, Thumri, Ghazal, devotional, and now fusion and new age music. He recorded one of the most famous albums of all time in the history of Indian music called PIYA BAVARI along with his keyboardist son Shri Abhijit Pohankar which went on to international compilations like the esteemed Buddha Bar and became an all-time hit in the annals of the Indian recording industry.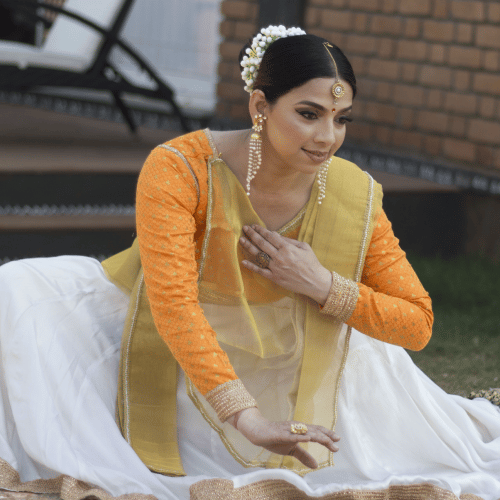 Rujuta Soman
Rujuta Soman is one of the international leading Kathak dancers of India and the founder of the Rujuta Soman Cultural Academy. She was honed and polished under the tutelage of late Guru Pandita Dr. Rohini Bhate for over 20 and also holds a Master's Degree in Kathak from Pune University. Born with an artistic flair, Rujuta has also explored the nuances of Taal and Laya under the guidance of Taalyogi Pt. Suresh Talwalkar. Recently she has been learning the intricacies of Jaipur Gharana of Kathak under the able guidance of Guru Pt. Rajendra Gangani. She is a creative advisor at Rithwik Foundation for Performing Arts, and also a curator at Ishaanya Art & Culture Club of Creativity, Pune. Rujutas artistic collaborations have been remarkably applauded and well-received. These include " Saxophone melody and Kathak" with George Brooks, "Sufi and Kathak" with Suha Khan, "Kathak along with Rajasthani folk music" with the famous Mame Khan, "Flute and Kathak" with the great flutist Pt. Pravin Godkhindi. Rujuta was a part of the concept "Sangam" – a Confluence of Kathak, Sitar, and Tabla featuring Purbayan Chatterjee and Ojas Adhiya.
She has been bestowed with many honors and titles like "Nritya Alankaar" by Akhil Bharatiya Gandharva Mahavidyalaya and "Singaar Mani" by Sur Singar Samsad. In January 2018, the "Shree Nandini award" for outstanding contribution to the field of dance by the FIFTH NOTE ACADEMY at the hands of Mr. Praveen Kadle, Ustaad Rashid Khan, and Prof. Mandavi Singh. She has been awarded "Dr. Vijaya Bhalerao Kathak Nrutya Puraskar" by Ganawardhan Sanstha, Pune (2019).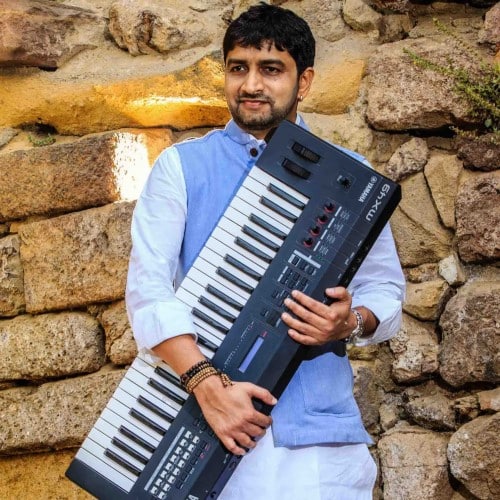 Abhijit Pohankar
Shri Abhijit Pohankar is a Fusion Music Maestro and Music producer known for his unique style of blending traditional and modern music. The only Indian, who plays INDIAN CLASSICAL MUSIC on a Keyboard. He is known for his epic fusion album PIYA BAWARI which is considered a milestone in Indian Independent Music. Abhijit carries a Royal Music lineage of over 4 generations being born in one of the most respected families of Indian Music, son of the legendary Classical Vocalist Maestro Pt. Ajay Pohankar is the youngest artist to be featured in the esteemed Buddha Bar music of France.
He has created several collaboration experiments of fusion music with legends like Hariharan, Ghulam Ali, and Grammy award winner Pt. Vishwamohan Bhatt, Roopkumar Rathod, and many more. More than 35 music albums by him are available on iTunes and multiple platforms thus making him one of the most recorded artists spanning over the last 18 years in the Independent Music Category.
He has achieved around 4 million Youtube hits for his landmark concept BOLLYWOOD GHARANA (fusion of Bollywood hits with Indian Classical Music) featuring Hariharan Ji & Pt Ajay Pohankar Ji.
Bollywood Gharana, the band performed around 50 concerts around the world in 2019 in a span of 12 months making a big impact on the audiences.More than 2000 concerts worldwide at prestigious venues, a popular musician amongst niche audiences.

Register for email updates