Rithwik Foundation for Performing Arts and Rujuta Soman Cultural Academy (RSCA) is proud to present 'ARPIT 2023'.
ARPIT is an event where students and teachers of all the branches of RSCA come together and offer a tribute to their Guru, Smt. Rujuta Soman and her team of teachers. Each year the students of Rujuta Soman Cultural Academy come together and present a beautiful blend of hard work and dedication through their performances.
The Kathak performers will be accompanied by:
Charudatta Phadke, Manoj Deshmukh (Tabla)
Yashwant Thitte (Harmonium)
Jaydeep Vaidya, Shubham Khandalkar,
Arpita Vaishampain (Vocal)
Manas Gosavi (Mohanveena)
Rohit Kulkarni (Keyboard)
Stay tuned for the digital broadcast.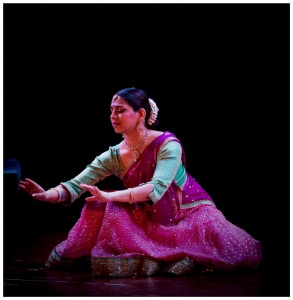 Rujuta Soman is one of the international leading Kathak dancers of India and founder of the Rujuta Soman Cultural Academy.
Rujuta was honed and polished under the tutelage of late Guru Pandita Dr. Rohini Bhate for over 20 years.
Born with an artistic flair, Rujuta has also explored the nuances of Taal and Laya under the guidance of Taal Yogi Pt. Suresh Talwalkar.
Recently she has been learning the intricacies of Jaipur Gharana of Kathak under the able guidance of Pt. Rajendra Gangani.
She is the creative advisor at Rithwik Foundation for Performing Arts.
Besides. she is also a curator at Ishaanya – Art & Culture Club of Creativity, Pune.
Rujuta is empaneled with 'Established Category' of ICCR's (Indian Council for Cultural Relations, Ministry of External Affairs) reference panel of Artists.
About RSCA
Rujuta Soman Cultural Academy (RSCA) was founded by Rujuta to provide a platform for her various teaching engagements. Age being just a number, she trains her students in pure classical Kathak – in gratitude to her Guru, Late Guru Pandita Dr. Rohini Bhate, to carry her work forward.
Since the last 20 years, RSCA continues to preserve and promote Kathak at the highest calibre locally, nationally and internationally.
Rujuta, along with her senior students, has performed at various prestigious festivals nationwide and internationally.
Additionally, she has collaborations with various genres of music.
Social work: By playing its part in serving the society, Aastha – an initiative for social cause, has been running successfully for 4 years under the academy. The initiative focuses on enriching the lives of people through art. To add further, through productions conceptualized and choreographed by Rujuta, RSCA has organized various charity shows in the aid of social organizations through productions; to name a few – Bhairav Bhavatarak, Unnayan, Darpan, Chaitanya etc.
Recently she has done a collaboration with the the veteran theatre artist Atul Pethe in a dance Drama "MallPractice and The Show" ,which has got great appreciation from eminent personalities and writers from the Marathi theatre and film industry It has got the "Aryans Sanman 2023" which is the experimental theatre award by the Aryan group of companies.

Register for email updates