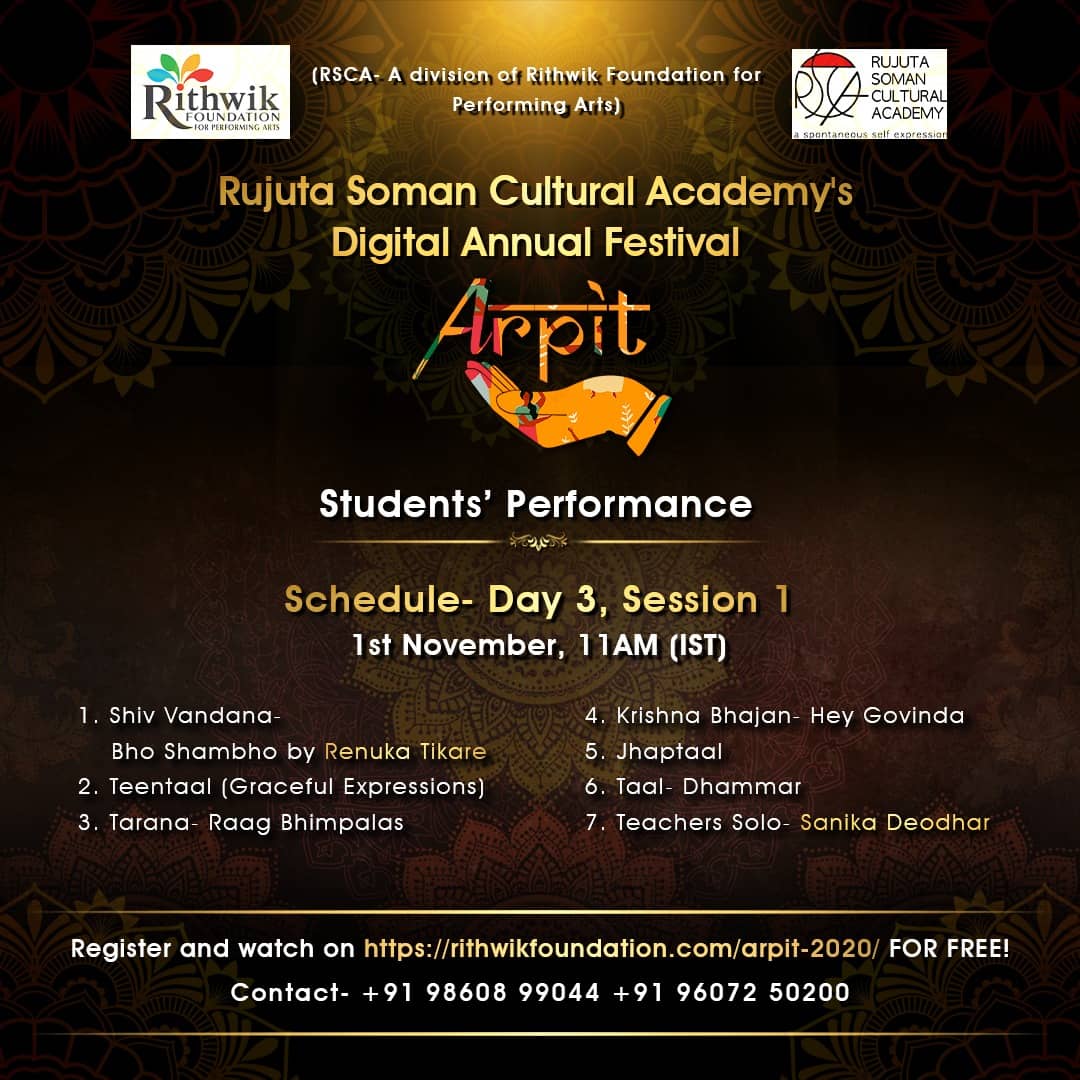 ARPIT 2020 – Day 3, 01st November 2020, 11:00 AM (IST)
The first session of our penultimate performance of ARPIT 2020 is filled with talent.
Prasing Lord Shiva, Renuka Tikare presents a song composed by Jayteerth Mevundi ji: Bho Shambho.
Next is a Teentaal presentation consisting of all the technical parts of Kathak.
Performers are-
Jogeshwary Gaikwad, Shweta Hankare, Garima Singh, Pooja Mishra, Aanchal Asthana and Tanya Gadwal.
A different aspect of Indian Classical Music, Tarana is a composition created using syllables of Persian and Arabic phonemes.
Performers are-
Nikita Gowaikar and Gargi Javalgekar
A beautiful bhajan in praise of Lord Krishna, is a graceful presentation of abhinaya (emotions).
Performers are-
Shubhatrayee Satwe, Indraja Chhatre, Aabha Date, Isha Chhatre, Falguni Kulkarni, Srishti Sharma, Ishwari Karape, Prachi Tambe
and Swarada Mhetre
A cycle of 10 beats, Taal Jhaptaal will be showcase the technical aspects of Kathak.
Performers are-
Sayali Rahalkar, Rutu Salve, Ananya Shetye, Ketaki Shetye, Mrudula Nangude
Samruddhi, Pratiksha Apte and Tejashree Jaripatke
Yet another presentation of the technical aspects of Kathak, Taal Dhammar is set in a cycle of 14 beats.
Performers are-
Shreya Karandikar, Sanika Joshi, Saachi Tambe and Renuka Deshpande.
Sanika Deodhar presents Shyam Chabi – a beautiful bhajan composed by Pt. Bindadin Maharaj Ji.