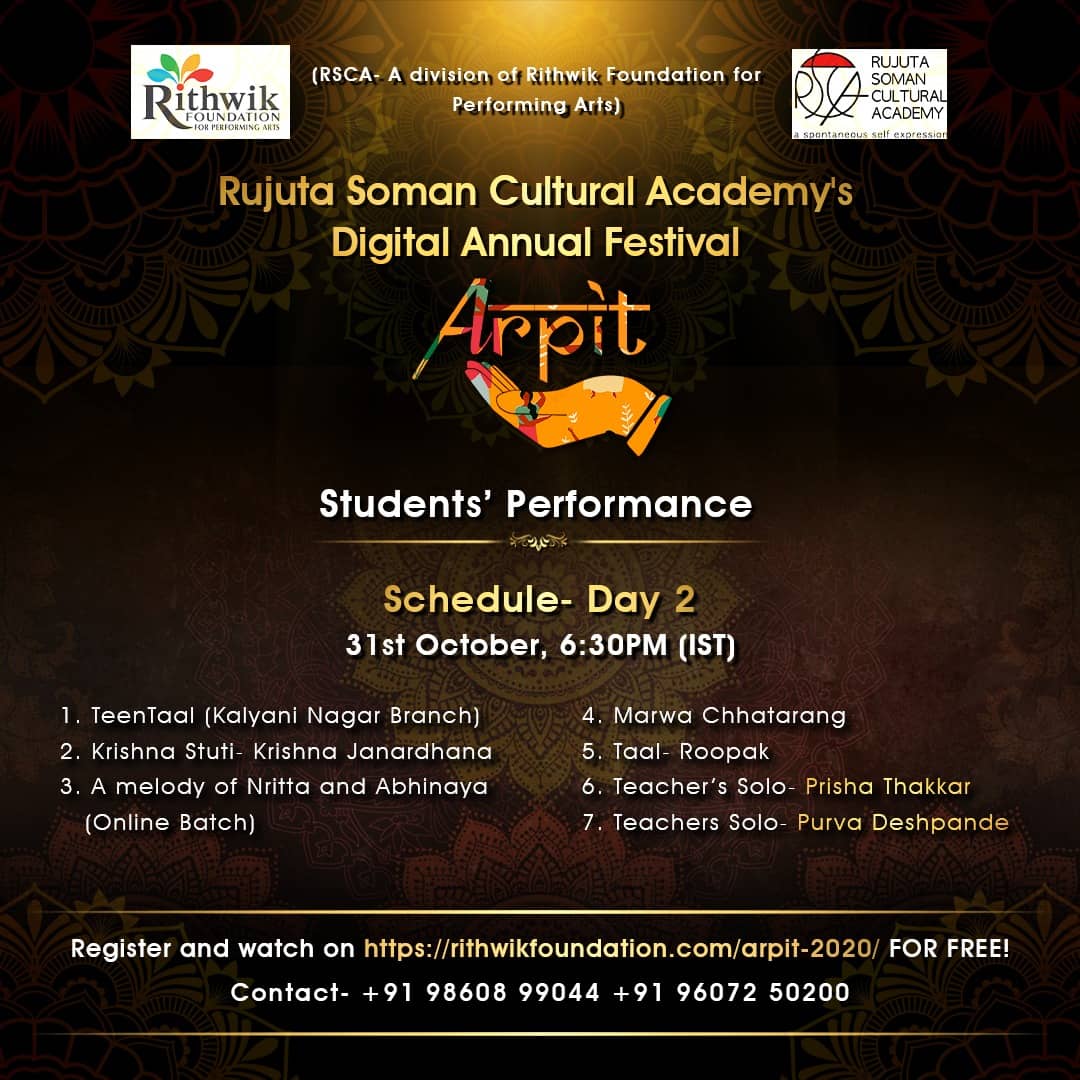 ARPIT 2020 – Day 2, 31st October 2020, 6:30 PM (IST)
The second day continues to astound the audience.
Teentaal is a cycle of 16 beats. Students will be performing bandishes followed by a
abhinaya piece, depicting the beautiful monsoon season.
Performers are–
Yagnya Shetty, Ameya Kadam, Chitrakshi Lowry, Mansi Narang, Ishani Lad and Prachiti Chauhan.
Presenting Krishna Janardhana. This bhajan is in praise of Lord Krishna and depicts his life.
The performers are-
Saanvi Hankare, Anannya Rathour, Shraddha Bhat, Saundarya Suryawanshi, Eira Raut, Aditi Siddarth, Saie Shastrakar, Bhavika Motwani, Saanvi Ikhar and Diya Senthilnathan.
Nritta and Abhinaya is yet another Taal sequence. This performance is actually a blend of abhinaya and movements.
Performers are-
Ashwini Pathak, Pallavi Solapure, Pallavi Deshpande, Jasmira Anjikar and Pia Chandavarkar
Marwa Chaturang, beautifully composed in raag Marwa by Late Guru Pandita Dr. Rohini Bhate ji, is melodious weave of natwari, tarana, thumri and sargam.
The performers are-
Poonam Shyam, Anuja Bhave, Neha Arondekar, Rajlakshmi Rai, Shilpa Koppula, Prashanth Chandran, Ritika Chakraborty and Anchana Kugaseelan.
Taal Roopak is a cycle of 7 beats.This sequence shows the techinal aspects of kathak.
The performers are-
Pradnya Vijayan, Prisha Thakkar, Anila Arora, Kavina Patel, Aarushi Dhanuka, Mahek Goidani, Navya Karnani, Tanvi Anand and Arya Kadbe
Prisha Thakkar will be presenting a taal sequence and a small abhinaya piece illustrating the beautiful atmosphere created by the rains.
Purva Deshpande will be presenting Taal Neel, a cycle of 7 and a half beats, depicts the abstract language of rhythm, movement and the sound of music on the graph of time and canvas of space.