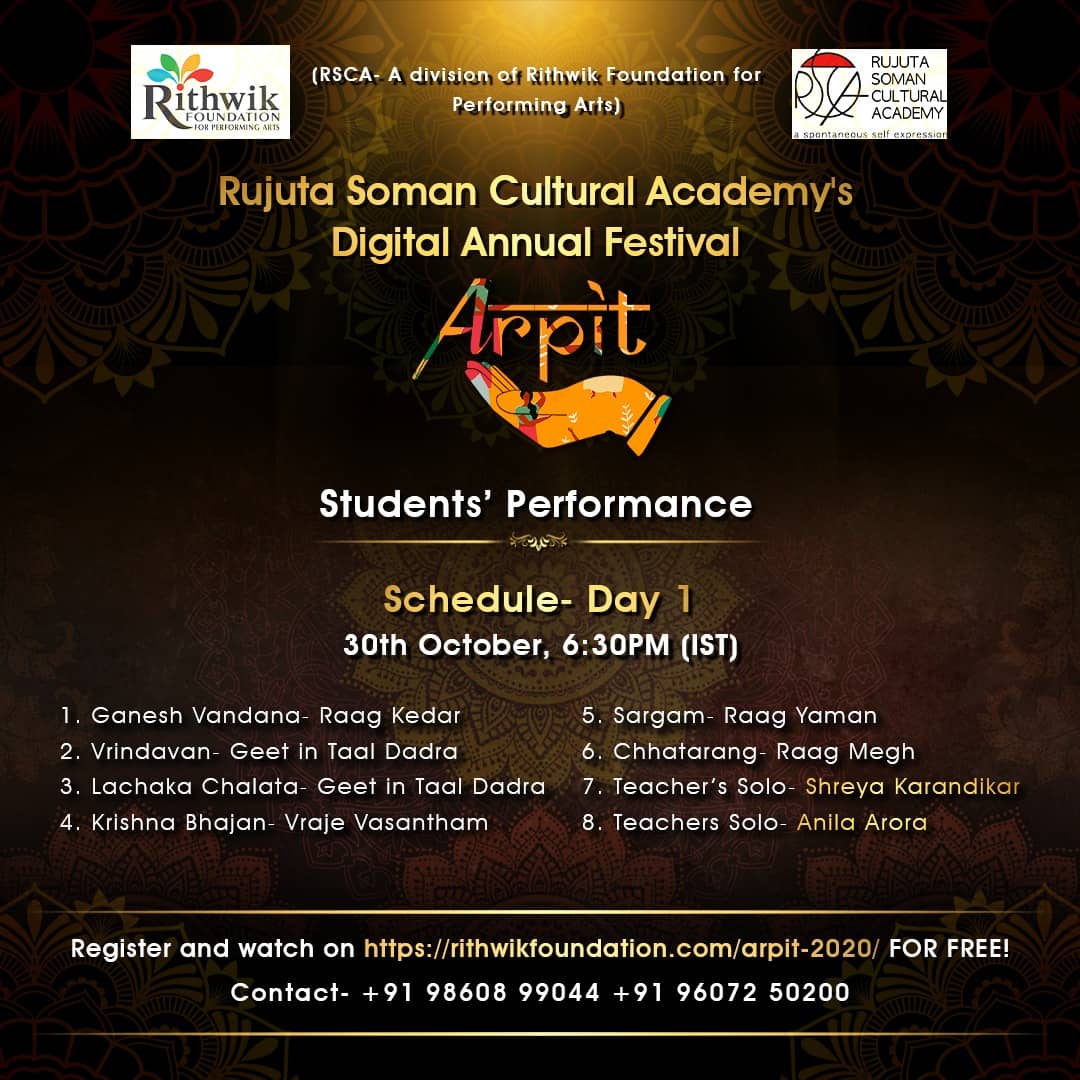 ARPIT 2020 – Day 1, 30th October 2020, 6:30 PM (IST)
Here's what we have planned for you.
To commence with, we present to you- 'Shuklambaram'.
Praising the Almighty. This composition comprises of a vandana of Lord Ganesh.
The performers are-
Rewati Hartalikar, Sneha Naik, Tanvi Amladi, Mohina Banerjee, Rujuta Joshi, Simran Panchal and Devanshi Parekh.
'Vrindavan'- a geet in Taal Dadra. This Geet is in praise of Lord Krishna which describes his beautiful traits.
The performers are-
Sameeksha Jain, Priyanshi Gupta, Vaanika Jhanji, Bhavna Kapse, Shatma Nair, Vela Kulkarni and Sheetal Kulkarni.
Lachaka Chalata– This geet depicts the life of Lord Krishna and his various characteristics.
The performers are-
Avni Thipse, Aditi Mhetre, Shravani Choure and Niyati Desai.
Vraje Vasantham is famous bhajan sung by Late Pandit Jasraj Ji, depicts the life of Krishna while he was living in Braj.
The performers are-
Yeluru Sri Shanmukha Manognya, Avani Godbole, Elakshi Mhaiskar, Spruha Desai, Sanvi Kundu and Omisha Baranwal.
Sargam, beautifully composed by Smt. Asmita Phatak in Raag Yaman and choreographed by Poonam Shyam.
Performers are–
Kanika Cherukuwada, Tanishka Kanjilal, Arya Ugale, Shruthi Rajesh and Siddhaarth Sundaramoorthy.
Chaturang; composed in Raag Megh, is a beautiful blend of 4 styles of Indian Music. Here, the dancer is waiting for her lover to come and meet her.
Performers are-
Anila Arora, Jyoti Salave, Shubhatrayee Satwe, Prachi Tambe, Madhura Joglekar and Prisha Thakkar.
Young RSCA teacher, Shreya Karandikar presents a Shiv Vandana followed by a Taal sequence ending with the act Kalia Daman showcasing an important story of Lord Krishna.
Anila Arora presents a Thumri composed by Pt. Bindadin Maharaj Ji and choreographed by Late Guru Pandita Dr. Rohini Bhate ji. This thumri depicts the departure of Lord Krishna from Mathura, leaving the Gopis heart broken and Braj lifeless.