Watch Kalashree Students Scale New Heights
Aarohee means "The Ascent". This is a festival conceived for featuring the upcoming talent from Kalashree Foundation.
This year, Rithwik Foundation is at the helm the ship for this noble event.
This is the first year of Aarohee's inception and it will be celebrate digitally due to the pandemic. But Vidushi Kala Ramnath, Founder of Kalashree Foundation, has grand plans for the  future where all upcoming talent from all over the world will be given a platform.
These upcoming artists will have the chance to showcase their musical skills in front of a live audience.
Year after year, RFPA and Kalashree jointly want to make Aarohee the first rung in the ladder towards the ascent of young artistes into becoming full fledged stars in their own right..

Aarohee Kalashree Performers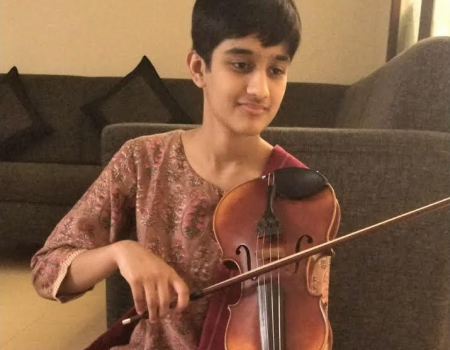 Nandini Goswami
Nandini Goswami is currently studying in Grade 9 at an International Baccalaureate school in Ahmedabad, India.
She has been learning North Indian Classical music on the violin under Vidushi Kala Ramnath for the past 3 and half years.
She has a deep interest in music, math and reading, and likes doing Calligraphy. She can also speak and write French.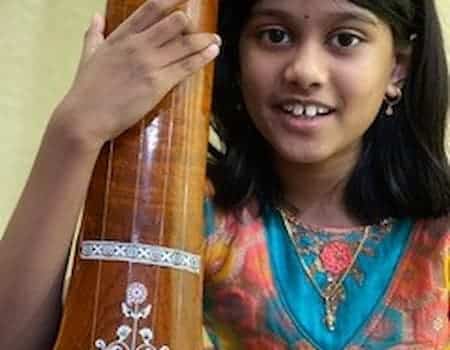 Sanjbhati Ray
Sanjhbati Ray is 8 years old, based out of San Jose, California.
She showed great affinity towards music and art from very tender age.
Sanjhbati started her Hindustani Classical music journey 1.5 years back, under the tutelage of her beloved Guru Vidushi Kala Ramnath Ji in Mewati Gharana.
Apart from music, she also enjoys History and Science. She aspires to become someone who can help and care for everyone who is in need and give all her love through music.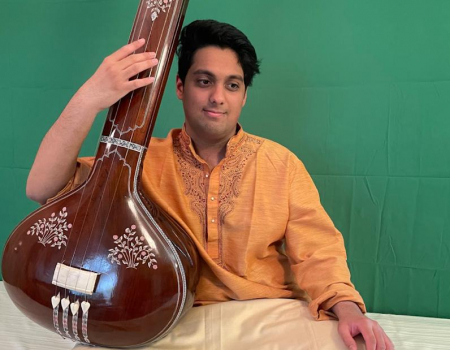 Shubhanan Kulkarni
Raised in America, Shubhanan was initiated into Hindustani classical music by his grandparents at a very young age.
For the last many years he has had the privilege of being a disciple of Vidushi Kala Ramnath.
He is currently in his second year of college pursuing a degree in Psychology.
Shubhanan loves music and wants to expand his horizons of Hindustani classical music to his fullest ability.

Aarohee RSCA Special Performer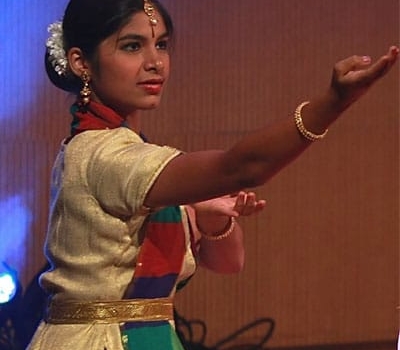 Shreya Karandikar
Shreya Karandikar is learning under Smt Rujuta Soman's guidance since 12 years.
She is also one of the teachers at RSCA. She has participated in several performances and workshops conducted by RSCA.
She has also bagged many prices by participating in various Kathak competitions.
Currently she is appearing for Visharad Exam from Akhil Bharatiya Gandharv Mahavidyalay.
When it comes to teaching, her focus is on taking classes for specialization. She is learning the art of teaching by conducting workshops and teaching basic classes. She is especially interested in teaching classes for children.

Aarohee Team In Their Own Words

"
First of all we would like to take this opportunity to express our immense gratitude and thank Guruji Kala Ramnath for accepting our daughter Nandini as her disciple. Nandini is truly blessed to have her guidance not only for violin but invaluable life lessons as well.
We would also like to thank the Rithwik foundation for providing such an amazing platform for Nandini to showcase her talent. This is her first performance at such level and we are very excited to be a part of it.
We hope that Nandini will continue her journey with dedication under Guruji's able guidance and blessings.
– Nandini Goswami's Parents

"
We would like to take this opportunity to express our heartfelt thanks to Rithwik Foundation for providing such a unique platform to promote upcoming young talents like my daughter, Sanjhbati. She is 8 years old and getting such fortuity from her Guru Vidushi Kala Ramnath Ji. It will encourage her immensely to work harder.
During this difficult pandemic time, this performance will always be very special for Sanjhbati, as she is very excited to present her music in front of people across the globe.
We are truly honored and humbled to be part of Aarohee.
– Sanjbhati Ray's Parents

"
We are very thankful to Rithwik Foundation for giving this unique opportunity to Shubhanan to showcase his music. His first performance with Rithwik begins a unique chapter in his musical journey.
Shubhanan is blessed to be a disciple of Vidushi Kala Ramnath who has not only been a guru, but also an inspirational force to him.
The platform created by Rithwik and Kalashree Foundation is providing opportunities to young artists like Shubhanan who are residing outside India and seriously pursuing Indian classical music. It is a proud moment for us and we are very excited for him to be represented by RFPA.
– Shubhanan Kulkarni's Parents